Happy birthday to the one you love. These long emotional birthday prayers for lover will set the tone for the new age.
Your lover will know that they are loved and there is someone who wishes them well. 
Birthdays are a time to reflect, be grateful, and also to pray for more blessings. 
If it's your partner's birthday, don't miss this chance to send them a birthday prayer message and a gift.
Birthdays are a good time to let your partner know how they make you feel and also to declare blessings over them.
Here are some prayer messages that you can copy and paste and make your partner smile or even cry.
Table of Contents
Long Emotional Birthday Prayers For Lover
#1. Babe, thank you so much for loving me unconditionally. I don't know where I would be, if it was not for you. Today being your birthday I just want you to know how special your presence is to me and your loved ones. You bring meaning to life and I pray that God gives you more years of life, peace, joy, success and good health. 
#2. My love, you are really one of a kind. You've touched my life in an unimaginable way. You have such a kind and powerful soul and I'm glad that you chose me to walk this journey with you. May God accelerate and multiply your blessings. Happy birthday, sweetheart.
#3. I feel so blessed that you've chosen to share your heart and your time with me. It's a privilege and honour to love you because you're such a great person. I pray that God grant you success and long life. Happy birthday.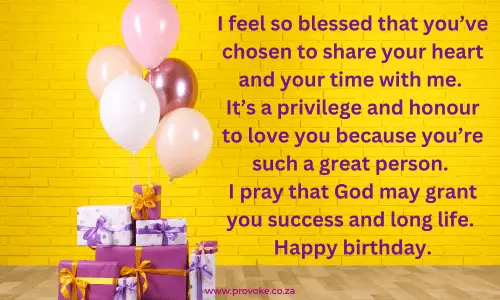 #4. I'm grateful to be your lover on your birthday. Life is beautiful because it has you. I love you so much. May God open the floodgates of heaven for you so that in everything you do, you may produce a good harvest. Happy birthday my love.
#5. It used to be a long and lonely journey without you. But since coming across you, life has been beyond amazing. You've taught me so much and I am now happier and more confident because of the role that you've played. May Proverbs 10:22 which says, "The blessing of the Lord makes one rich, And He adds no sorrow with it" be your portion. Happy birthday, darling.
#6. I thank God for your life and your parents too because if it was not for them, I would not have met such an amazing person, a person of your calibre. You have impacted my life in a great way. Sometimes I'm in awe and speechless when I think about how lucky I am to have found you. I pray that God increases you and bless you richly all the days of your life. Happy birthday to you.
#7. Happy Birthday my love. I constantly thank God for you because I don't know how I was living without you and I cannot imagine my life without you. As much as life is full of challenges, always know that you can do all things through Christ who strengthens you. And I will always be here to cheer you on because I know that you are capable of greatness and the sky is not even the limit for you. 
#8. Today as we celebrate your birthday, I pray Psalms 20:1-5 over you which says:
May the Lord answer you when you are in distress;
may the name of the God of Jacob protect you.
May he send you help from the sanctuary and grant you support from Zion.
May he remember all your sacrifices and accept your burnt offerings.
May he give you the desire of your heart and make all your plans succeed.
May we shout for joy over your victory and lift up our banners in the name of our God.
May the Lord grant all your requests." 
Many more birthdays to you my love.
#9. For God so loved me so much that He gave me you to become my partner. I thank God for his love and I pray that you may prosper in all things and be in health, just as your soul prospers. Happy birthday, babe.
#10. I thank God for this day because it acts as a reminder that God has graced me with His presence through your presence. God has used you to fill up every broken piece of my life and to give me hope for the future. May God continually do you good all the days of your life until we even live to see our great-grandkids. Happy Birthday to you my lover. 
Read more: 130 Heart touching birthday wishes for husband and father
Birthday Prayers For Boyfriend That Will Make Him Cry
#11. Before you came, my life was hollow, formless and shapeless, meaningless and even bitter. But now, my life is full, in great shape, and meaningful, I have direction and life is even sweet. May God bless you continually. I love you and happy birthday.
#12. I thank God for your birthday because it is through it that I got to meet my earthly angel who has been an answer to my prayers. I might not say often how much you mean to me but always know that you make me whole. Happy birthday my love.
#13. I thank God for making our paths cross because I am able to experience God's love through you. I pray that he keeps you for many more years. Happy birthday my love.
#14. Today I celebrate you my king, prince-charming, my handsome man. Thank you for being a special gift to me. I pray that God blesses you, increases you, and protects you. Happiest birthday and I love you.
#15. I thank God for giving me a sacred gift which is you. I wish you many more birthdays. May the Lord bless you and keep you; may the Lord make his face shine upon you and be gracious to you; may the Lord turn his face toward you and give you peace." Numbers 6:24-26
Birthday Prayer For My Heartbeat
#16. Happy birthday my love. Have I ever told you that you are my heartbeat? I pray that God keeps you for a century because your presence plays significant role to my existence. 
#17. Happy Birthday, sweetheart. May God continue to cover you and guide you. May He make your dreams come true alongside me. I love you to the moon and back.
#18. Thank you so much for being such a sweet soul. Our hearts are compatible, they are a perfect fit. May God fill your life with wealth, wisdom, and wellness. Happy birthday my love.
#19. If I could I would write a million reasons why I love you and how you make me feel. But by the time I finish writing it, your birthday would have passed. So happy birthday my love. I'm glowing because your love continually shines on me. I love you so much.
#20. I celebrate you babe on your birthday because I found you. I pray you find what you are searching for in life. Happy birthday my heart.
Long Birthday Prayer Message For My Love
#21. Your life is worth celebrating, because you are God's gift to the world. And only a few people get to experience your warmth and wisdom, my love. I wish you a blessed birthday. May God continually shield you.
#22. Happy birthday my love. May God bless you like Isaac who sowed seed in the land, and that very year he reaped a hundredfold. The LORD blessed him, and he became richer and richer until he was exceedingly wealthy. Amen.
#23. I thank God for your life. God has added another year to you because me together with the world still need you. God will make you the head and not the tail. You will be blessed coming in and going out. He will surely bless the work of your hands. I love you, babe.
#24. Happy birthday to you my love. I pray that God may continue to protect you, strengthen you and enrich you. To many more blissful years darling.
#25. Happy birthday to the most amazing partner I know. Life with you feels like a breeze; it's refreshing. May God continually refresh your soul and extend your years to infinity. I love you.
Birthday Prayer Message To My Man
#26. Happy birthday my man. In this new age, I pray that God brings you more wins, victories and celebratory moments. Love you.
#27. Ever since I met you, my worries have shrunk because my joy has expanded. Thank you for the positive effect you have had on me. May God enlarge your territory and shrink your worries. Happy birthday my love.
#28. Happy birthday, darling. You are such an amazing man. May God increase your knowledge and wisdom so that you can discover the secrets to an abundant life. 
#29. Happy birthday, babe. May God add to you every good thing under the sun. May God show off his goodness through you.
#30. If there is one position that I so love even after all these years it is being your woman. You are the greatest man to serve. May Proverbs 10:22 which says, "The blessing of the Lord makes one rich, And He adds no sorrow with it" become a reality for you. Happy birthday my love.
Read more: 155 Best lines for wishing birthday
Birthday Prayer For Boyfriend Long Distance
#31. My love, even though we are miles apart, I know that this birthday prayer will reach you. May God bless you abundantly and multiply your years. Happy birthday.
#32. I wish I could be with you there so that I can tell you how much you mean to me and how much God should bless you on your birthday. Happy birthday. I wish you many more fruitful years and years filled with everlasting life.
Final thoughts
I pray that God blesses your relationship. You can also forward them these birthday prayers that they can make for themselves.